Open Oregon State • Online Educational Resources
---
Open news
20+ short courses online
Open Oregon State offers more than 20 short courses for free.
Affordable Learning Initiative
Oregon State University is working to make college more accessible and affordable for all students. The Affordable Learning Initiative, a partnership between Open Oregon State, the OSU Libraries and Press and the OSU Beaver Store, is working to ensure that 100 percent of Oregon State students have no-cost or low-cost access to course materials on the first day of class.
Benefits of the ALI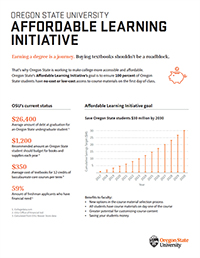 Take a closer look at how the Affordable Learning Initiative will impact the learning experience for Oregon State students. View the PDF »
The goal
The Affordable Learning Initiative aims to save Oregon State students $30 million by 2030. In addition to saving students money, faculty will have many benefits too, including:
New options in the course material selection process
More prepared and engaged students as they will have access to course materials on day one of the course
Greater potential for customizing course content
Join the movement
Many of your Oregon State colleagues are using or developing open resources to make the learning experience more accessible for students. To become part of the efforts, you can adopt, adapt or author an open textbook; attend an Open Oregon State event; or contact Dianna Fisher, director of Open Oregon State, to learn how you can directly lessen the burden of textbook costs among your students.

Feature Box
Open Oregon State
Open Oregon State aims to take advantage of Oregon State's national reputation in the field of online learning to establish a competitive open education resource (OER) program that focuses on open textbooks and reusable digital components. Learn more »