Open Oregon State • Online Educational Resources
---
As a tireless advocate for learners everywhere, Oregon State University is proactive in finding ways to make higher education more affordable, and a new program aims to rein in the cost of textbooks and ease the financial strain on students.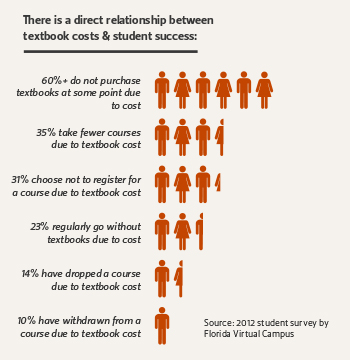 The university's open textbook initiative is a collaboration between OSU Libraries, OSU Press and Open Oregon State. It provides financial, technical and editorial support for faculty members to create texts that will be freely accessible online to any student in the world.
In addition to relieving students of ever-increasing costs, these works will also feature interactive content that enhances learning through video, audio and other multimedia. The textbooks will be incorporated into OSU curriculum and include Creative Commons licenses to facilitate their use at other universities at no cost.
Prototype textbook
An OSU geosciences course used the university's first open textbook last winter, transforming "Living with Earthquakes in the Pacific Northwest," by Robert S. Yeats from print to digital. Yeats is a professor emeritus in the College of Earth, Ocean, and Atmospheric Sciences.
Originally published by OSU Press in 1998 and used widely in college courses throughout the Northwest, Yeats' book has been updated to feature video clips of earthquakes where still photos once resided. An animation depicting the movement of tectonic plates replaced the book's previous line drawings. Plans are under way for Yeats to make additional updates and revisions.
Accepted proposals (phase 1)
Earlier this year, four winning proposals from OSU faculty were chosen for publication in the initiative's first phase:
Kevin Ahern and Indira Rajagopal, Department of Biochemistry and Biophysics
Gita Cherian, Department of Animal and Rangeland Sciences
John Lambrinos, Department of Horticulture
Shawn O'Neil, Center for Genome Research and Biocomputing
Publication of the four books will take place in 2014-15; they will be available in four interactive formats – HTML, PDF, iBooks and ePub – as well as in a print-on-demand edition.
Accepted proposals (phase 2)
An additional 16 textbooks are currently under development by Open Oregon State
Free textbook rally
On Nov. 4, 2015, Open Oregon State staged an event on campus to rally support for open, free textbooks. Those who spoke in support of the initiative included OSU President Edward J. Ray and Open Oregon State director Dianna Fisher. (Photos by Melissa Whitney)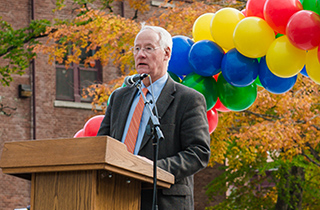 Oregon State President Edward J. Ray speaks at the free textbook rally to express the university's commitment to easing students' financial burden.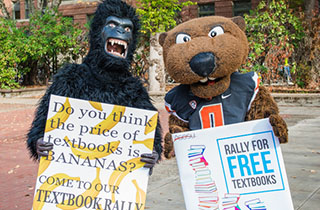 Benny Beaver, Oregon State's mascot, and a friendly ape show their support for reducing the cost of textbooks for OSU students.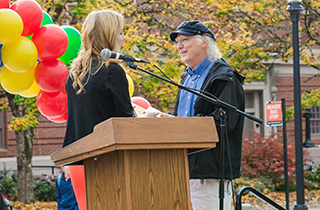 OSU biochemistry professor Kevin Ahern receives an award from the ASOSU for his efforts in making all course materials openly accessible to all students.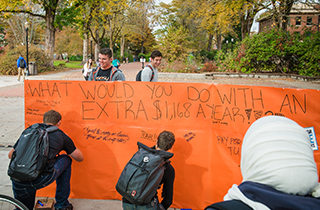 OSU students gather near the Memorial Union to write on a large banner how they'd spend their money if textbook costs weren't so exorbitant.

Feature Box
OSU to adapt free textbook, cut $100K in student costs
Oregon State University's efforts to make college more affordable took a step forward when it was awarded a $30,000 grant to adapt a biology textbook that will be freely accessible to OSU students and learners worldwide. Read more »